We're a family-owned and operated business that takes pride in our work, and we haven't missed a clean in 16 years. We're passionate about delivering quality services at an affordable price. And we believe in treating our customers and employees with respect.
You can trust us to clean your business from top to bottom – without any shortcuts. We take our time to do the job right, so you can focus on what you do best. Plus, we offer a wide range of services to meet your every need.
BE HONEST
TAKE OWNERSHIP
HELP OTHERS
BE ON-TIME
MAKE WORK FUN
GET IT DONE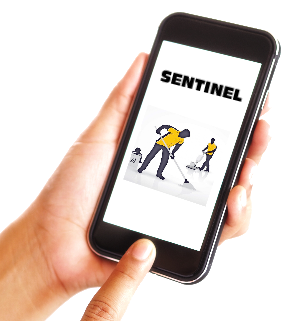 Sentinel Holds Us Accountable!
We know how important it is to have complete visibility and transparency in our cleaning operations. That's why we created Sentinel, a cloud-based auditing platform that provides daily audits of all your cleaning operations so you can be sure they are always up to par. You'll never have to worry about the quality of your service again!
With just one click, you can access our platform from any device and keep an eye on things even when you're not in the office. Plus, our management team is always on call 24/7 if there's ever an issue with any of your accounts.
Tired Of Cleaning Companies That Don't Deliver?
We know life isn't perfect, and we're not going to make you a promise that there won't ever be an issue. But our hassle-free "We're Not Perfect" (Put it Right + Starbucks on us) guarantee means that if anything is highlighted, it will be taken care of immediately and have a Starbucks on the house.
There are a few questions you should ask and get the answers to before hiring a commercial cleaning services company. This is a list of most frequently asked questions we hear from new potential clients and the answers we are happy to pass on to you. If you have any other questions, please don't hesitate to use our Contact Us Form and we will get back to you as soon as possible with an answer.