Office & Building Cleaning Services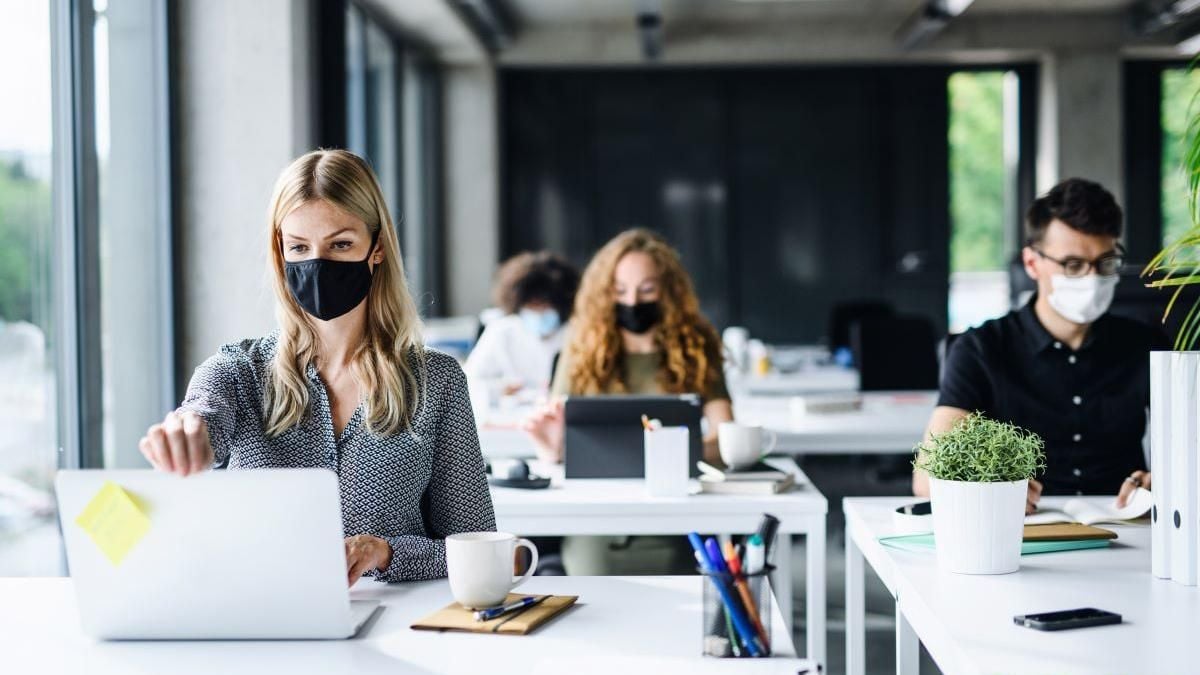 We can work with you to:
Assess all sites or parts of sites that have been closed before restarting work
Create a daily cleaning schedule that focuses on disinfecting touch points and high traffic areas and the use of specialist disinfectant products
Help keep the workplace clean and help prevent transmission by touching contaminated surfaces
Respond immediately to provide Anti-Viral ULV Fogging services should a case of COVID-19 be confirmed
Provide evidence via our cloud-based software (Sentinel) that government guidance is being followed
Carry out site COVID-19 risk assessments and method statements
It is now more important than ever to nurture your commercial premises and create hygienically clean working environments. Good office cleaning practices positively impact employees. Work becomes a place for inspiration and well-being. Happy staff members are not only more productive, but they also have higher job satisfaction, take fewer sick days, avoid burn out and show increased loyalty.
Happiness in the workplace happens for lots of various reasons. For some people, it happens when they're achieving great things. For others, it happens when they're staying back to help one another. For most, it happens when they're feeling valued. What can't be underestimated is the role that a clean, safe and hygienic environment makes people feel valued. Happy staff are more likely to give higher work performance, be proud of their clean workplace and stay longer, thus reducing staff churn.
Did you know that:
The average employee loses nine working days a year to sickness, some of which may be attributed to a lack of workplace hygiene.
A typical office keyboard can carry up to 7,500 bacteria at any given time.
The average work desk is actually 400 times dirtier than the average toilet seat. Shocked?
Approximately 80% of common infections are transmitted by touch. That means that germs are probably spread every time you touch something.
Viruses such as the flu can linger on unclean surfaces such as work desks for 24 hours, and COVID-19 can last up to 72 hours.
60% of absences from work illnesses are contracted from dirty equipment in the office such as e-coli, staph and bacteria.
With 65% of office workers sharing phones and computers, and with a whopping 25,127 germs per square inch found on just a telephone.
How Does Your Current Cleaning Service Measure Accountability?
We are a tech-first company utilising the latest industry software, Apps, systems, procedures and technology. We have designed a bespoke cloud-based auditing software called Sentinel. You don't have to be in the dark any longer.
Want to know more about how we are utilising new ideas and innovations?
If cleaning is so easy, why is it so hard to get great service?
It all comes down to training, systems, checklists and a few secret recipes – These are Fast Solutions for You.
You don't know who actually comes and cleans
We have dedicated cleaning teams for each facility. Because we look after our staff and pay them a living wage, we have very low turnover. Our cloud-based software Sentinel allows you to see time on site, GPS position and supervisors signature.
You can't communicate with the cleaners
We find communication log books invaluable. Supervisors will check the log book before each clean and will address any issues or points raised. They will also log this information into your daily cleaning audit, which is checked every morning by your dedicated operations manager.
Cleaners seem to fly through spot vacuuming and only emptying a couple of bins
You'll be able to log into any device with your VIP Link and Password to view the previous nights cleaning audit, allowing you to see time on site, GPS location, predetermined checklists and images, along with a supervisors signature.
Important things to you keep getting missed
We listen to what you want and expect and then input that into our cloud-based auditing software Sentinel. Each daily cleaning checklist is bespoke and reflects each facilities unique requirements and challenges. Should an issue be flagged at any time, we can take immediate steps to add it to the daily cleaning checklist and images.
Cleaners started great, then quickly went downhill
We believe that we are only as good as our last clean, that's why we don't tie you into a contract. WE GUARANTEE if anything has been missed or not done to your satisfaction, we will put it right immediately at no extra charge. You decide what if any notice periods are required.
"The alarms were not set… And, one of the windows was left open, again!"
We only hire staff eligible to work in the United Kingdom, DBS checked, and background vetted. Before your facility is secured, a supervisor must complete a checklist via our cloud-based software Sentinel and sign to confirm that the facility has been secured.
What Our Clients Are Saying
Clean Sweep has been reliable & effective as our office cleaners for several years. We have always found them to be competitive in pricing, trustworthy and a friendly team to work with.

NE, Yorkshire & Lincolnshire Regional Administrator
I am happy with the work you have provided and will highly recommend you to anyone who is looking for a cleaner in the area and will keep you in mind for future tenders that come up.

HLM Property Manager - Residential Estate Management
Ready to Partner with a Cleaning Company that Delivers on What They Promise?