Exceptional Cleaning Services
Regardless of the nature of your medical practice, our medical cleaning team provide bespoke cleaning packages that are CQC Compliant. We can help with both Surgical and Non-Surgical Medical Practices, including:
Counselling & Psychiatric Practices
Has Your Current Cleaning Services Flat Lined?
Finding a capable competent and consistent healthcare cleaning isn't so easy. There is no shortage of commercial cleaning companies willing to take your business. If you are evaluating your current cleaning provider or considering alternatives, consider the following:
Does the cleaning company understand the requirements of medical cleaning?
Do they understand regulations and compliance issues connected to medical cleaning?
Do they understand the science behind cleaning, the concept of dwell times and touchpoints?
Is their employee training program detailed, observable and offered for both general cleanings, medical cleaning, products and equipment?
Have employees all been DBS vetted and undergone extensive background checks?
Is cleaning audited daily and are deep cleans adequately documented?
COVID-19 Preventative & Emergency Deep Cleaning
With Clean Sweep Commercial's enhanced cross-infection prevention cleaning services, you can make sure your practice is a safe space for staff and patients. Formula 429 plus kills 99.9999 % of bacteria within 15 seconds and goes on acting for up to 8 weeks. It is odourless and colourless and safe to use around humans and animals and has no significant environmental impact, and your facility can be back in use within 30 minutes.
CQC Compliant Cleaning Services
Clean Sweep Commercial has been providing medical cleaning services in Lincoln and Newark for over 15 years. We understand that you want to provide the most hygienic, safe and clean environment for your staff and patients. Our medical cleaning service helps prevent cross-contamination and improves infection control by using a cloud-based software called Sentinel. Developed in house Sentinel allows us to audit and document all cleaning in your facility.
Cleaners log into the Sentinel APP once on-site, and it shows the exact date, times, GPS location, QR codes, and photos. All rooms have daily cleaning checklists that are scanned, and predetermined photos taken of cleaned areas, along with questions. Clients can log-in and see previous days cleaning. Finally, hard copies are kept on-site as evidential proof for CQC inspectors to view. We have had excellent feedback from all our practices.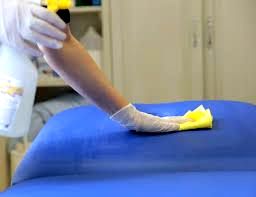 No Contracts
24/7 CQC Compliant Cleaning Services
Uniformed DBS Vetted Cleaners
Provide Equipment, Chemicals & Supplies
Specific Cleaning Plan
Clean For Health
Auditable Paper Trail
Yearly Deep Cleaning
Secure Key Holding
Fully Insured for 5,000,000
BOOK AN ESTIMATE OR CALL BACK

Enter your details, choose a date and time that best suits and book your appointment. Once booked, you will receive a complimentary email confirming your appointment. We will then visit your site to evaluate your exact cleaning requirements. Then provide you with a Free No-Obligation site survey, and accurate estimate.